Once you've created a board with some panels, you can send a scheduled email containing embedded images of panels on a board.
Create a scheduled email
Access the email scheduler by navigating to the board and clicking the email icon:

In the email scheduler, enter days, times, and recipients, and optionally a descriptive subject line for the email. You can also send an immediate copy of the report by clicking Send now. Click Save.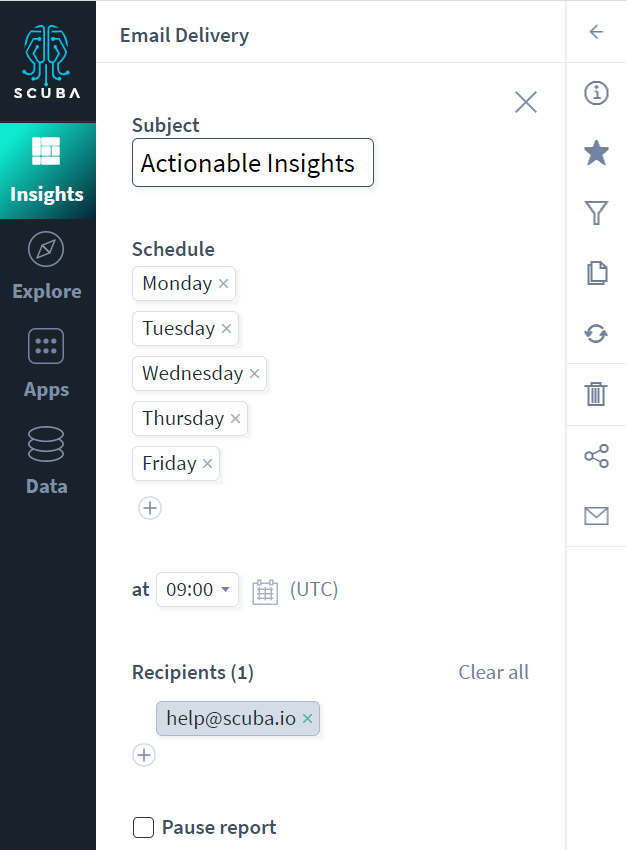 Review scheduled reports
If you are an admin, you can view and edit the list of emails sent from a board.
In Admin > Boards settings, use the linked number in the Email reports column to see an editable list of emails sent from that board.
Opt out of emails
To opt out of emails for a report:
In the Scuba UI, navigate to the board you're receiving emails for.

Click the mail icon.

Find the scheduled email you want to opt out of, and click to edit.

In the Recipients list, click the minus next to your email address.

Click Save.
If you are not a Scuba user, opt out of emails by contacting Scuba support as described in the emailed report.